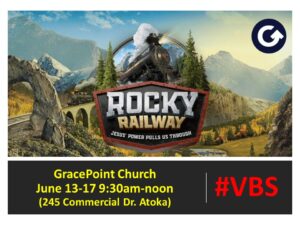 VBS is coming!
A great week of fun and learning for ages K-5th grade.
WORSHIPING TOGETHER EACH SUNDAY…
Please
join us for worship each Sunday at 10 AM at our Atoka campus
(245 Commercial Drive)
,
on
Facebook
and on
YouTube.
Student ministry groups meet each Wednesday at 7 PM (on campus) for activities and encouragement for students from kindergarten through 12th grade.